This little side table belonged to my mother-in-law and now it is ours. I don't have the original before picture but this is what it looked like after I stripped the table.
BEFORE
AFTER
I was very hesitant to use yellow but I am so glad I did!
I used a chalk paint recipe (1 c. latex paint and 1/4 c. baking soda). I added a brown glaze to my paint to tone down the yellow. So things can be added and it is not an exact science/measurement. If the chalk paint is too clumpy add some more paint or a little bit of water. I suggest finding the recipe you like and run with it. There are tons out there and you really can't mess this stuff up....plus, practice makes perfect!
What do you think of the yellow?
Linking up to: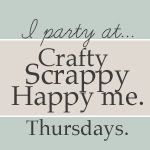 Alchemy Fine Living